New Bridge at Tintagel
Whether you are talking about the stunning new bridge at Tintagel itself or the controversy surrounding its installation, bridging Tintagel's divide has been an historic task. And it is now one of our favourite dog-friendly days out.
Until recently, Tintagel's 200,000+ annual visitors had to tackle 148 uneven steps that were cut into the cliff by local quarrymen in the 1800's. However, the summer of 2019 saw the opening of a new bridge joining the island to the mainland.  The bridge uses 40,000 slate tiles, locally sourced, vertically stacked and reminiscent of the local herringbone 'curzyway' hedges.  The two cantilevered arches almost kiss in the middle, nearly 60 metres above the sea, leaving a 4cm gap that literally moves you.
Tintagel's History
Tintagel Castle is a fascinating site.  Archaeological studies have unearthed more imported post-Roman pottery at Tintagel than in the rest of the British Isles combined.  Finds from all over the world describe a trading operation of unparalleled scale. This indicates the enormous power and status of the rulers of the Kingdom of Dumnonia.
These legendary rulers, characters such as King Mark in the story of Tristan and Iseult, inspired Geoffrey of Monmouth to link Tintagel with King Arthur in his 12th century 'History of the Kings of Britain'.  Wishing to be associated with the image of the legendary kings of Cornwall, Richard Earl of Cornwall built his 13th century castle at Tintagel.
Edward, the 'Black Prince' and Duke of Cornwall, ordered repairs to be made at Tintagel but it was in ruins by 1478.  It was in honour of Edward being made Duke of Cornwall that Helsbury Park was created, as a deer park.
Tintagel Castle is in an Area of Outstanding Natural Beauty and like parts of Helsbury Park is a Site of Special Scientific Interest. It was feared that the new bridge would be detrimental to this landscape that made its building so controversial.  However you feel about the look of the bridge itself, the views from it are spectacular. Timed entry slots in peak season have been adopted to help preserve the site.
Statue of Gallos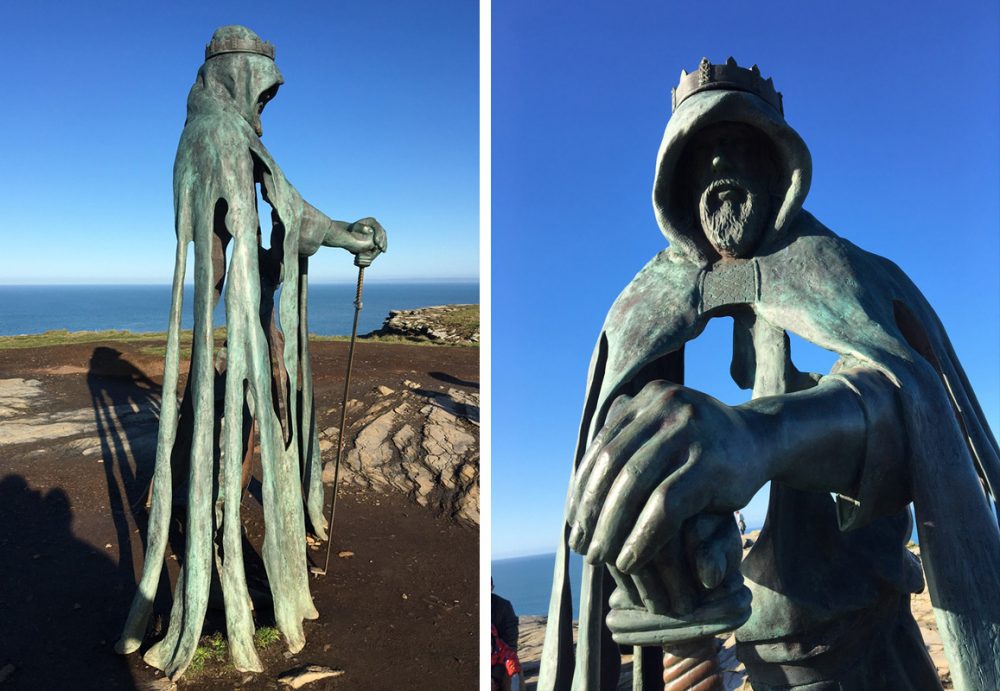 Tintagel Castle is maintained and managed by English Heritage, who have invested £5m in the site. With improved pathways, the spectacular new bridge and a number of bronze statues enhancing the experience. The most striking of the statues is Gallos by Welsh artist Rubin Enyon.  Gallos, Cornish for power, depicts a cloaked and hooded king.  Deliberately ambiguous, Gallos could equally be a king from history or myth.  He stands guard on the island looking back at the castle and looking back through time.