Thinking about our Petfood Paw-print
Having gone mostly veggie at home my poor old brain has enjoyed some respite from having to weigh up the environmental impact of at least some of our food.  What I hadn't given much thought to, to my embarrassment, was the environmental paw-print of our petfood.  Various news reports suggest that there are now 8 million dogs in the UK so the potential impact of what they eat is phenomenal.
Sustainable to the core
Thankfully, the pawesome people at Scrumbles have put a colossal amount of thought into this dilemma and produced a range of amazing products.  And judging by their incredibly informative Blog they love a pun too!  Scrumbles is one of very few UK pet food manufacturers (just two I believe) that have achieved B Company status, meaning that they strive to deliver a positive environmental and social impact in every aspect of their business.
Made in the UK and Ireland from British meat and sustainable seafood that would otherwise be wasted from the human food supply chain, Scrumbles' range of food and treats uses plastic free or recyclable packaging as much as possible and they are working towards 100%.  They offer a subscription service, delivered by carbon neutral couriers so you can also reduce your trips to the shops.  Scrumbles' recipes are nutritionally balanced to promote a healthy gut, that means better quality in, less out, which has to be a bonus!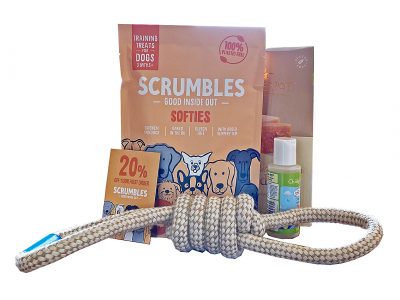 Treats All Round
Talking of bonuses, the Scrumbles team has generously let us have a supply of waggingly, woofalicious Softies dog training treats and discount vouchers to pass onto our guests, which canine visitors to Helsbury Park will find in their welcome pack while stocks last.  We think that deserves a big round of apawse! (Sorry, I'll stop now).
To find more about their products and delivery services check out their web site.