Vegetarian Food – Eating out in Cornwall – Part 2
I love vegetarian food and eating is the most important part of my planning process when it comes to days out. My first question in the event of a trip is always, what's the plan for lunch? The only problem being vegetarian is not everywhere is capable of offering good or a wide enough selection of vegetarian meals. Hopefully in this series of blog posts I will be able to help you so you will never be disappointed by the one token vegetarian option again.
This weekend, we went to Kingsand and Cawsand in east Cornwall and had an amazing time. The vegetarian food was sensational, the ambience was wonderful, and the staff were fantastic. All in all, we have a brilliant evening.
Vegetarian Food at The Bay 
Cawsand is an old smuggler's bay opposite Plymouth. It has beautiful scenery and the town is gorgeous with quaint buildings and a really friendly atmosphere. The view from The Bay is superb, looking out over the sea. In the past, smuggler's used to bring illegal contraband such as brandy and gin into the country, with lots of routes in Cornwall. Now though, these bays are idyllic stopping places for tourists rather than smugglers.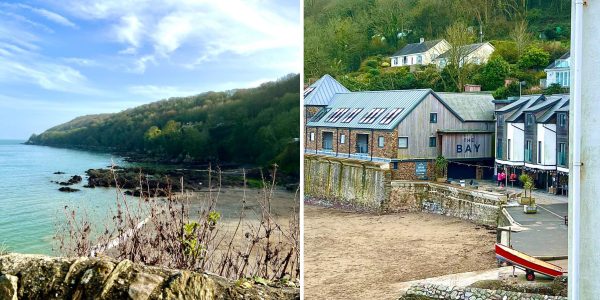 The Food
At The Bay, I had a vegetarian starter of hummus, olives and bread and they were amazing. The hummus was some of the nicest I have ever had and the olives were perfect. For my main I had the vegan burger which was delicious. It was a plant-based burger with red onion and roasted pepper with a garlic and herb vegan mayo and the chips were great as well. There is also a vegetarian roasted squash and sage risotto which I did not try but I am sure is amazing.
I definitely recommend The Bay bar and restaurant and I cannot wait to go back.
We are very busy this year but still have a few vacancies – check our latest availability to find out.