Crackington Haven – Doggie Day Out
We love Crackington Haven, it has one of our favourite beaches (which is dog friendly throughout the winter months), multiple great walks, fantastic cafés and a wonderful pub. It is the perfect place for a doggie day out!
The Walks
There a multiple coastal walks at Crackington Haven where you can take your dog all year round. We recently went on the St Genny's Church walk. This takes you up the cliff, through some fields (be aware that there is often livestock in the fields so keep your dog on a lead) and to a beautiful little church, back up to the road and you end the walk at the perfect place, The Coombe Barton where you can get lunch or dinner.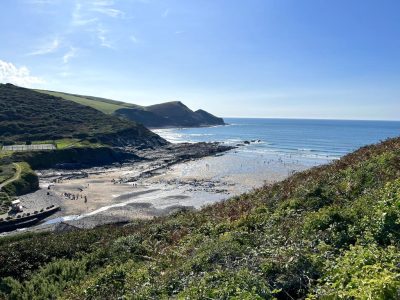 The Food
Crackington Haven has an array of eating options. The Cabin, a small, dog friendly café which offers an array of hot drinks, perfect for after a swim or surf at the beach. They do great breakfasts, lunches and cakes and offer a great selection of veggie options. The Haven Beach Shop and Café offers ice creams and hot drinks as well as lovely lunches and cakes. The Coombe Barton is a fantastic pub which serves Lunch and Dinner. They make a fabulous fish and chips if you wish to fully indulge in the coastal spirit. My personal favourite is their Halloumi Burger which I adore. They also do wonderful puddings, for instance the sticky toffee pudding. Their menu is seasonal and the fish is locally caught, the vegetables locally sourced and the meat is from local farms. They are also dog friendly!
Crackington Haven
We love Crackington Haven and highly recommend it as a day out. Remember that you cannot bring your dog on the beach in the summer months, only in the winter ones, but you can still bring them on the cliff walks and the St Genny's Church walk. You should also still be allowed to bring them into the cafés and restaurants.